The Mansfield ISD is one of the fastest growing districts in North Texas. With an Apple Distinguished Program, award-winning fine arts and athletics programs, and a focus on datadriven instruction and individualized pathways for college and career readiness, it's easy to see why! With on-site Elementary, Middle and Intermediate Schools, South Pointe offers the best of an MISD education.

Brenda Norwood Elementary (Pre-k – 4th)
2000 Julian Feild Street
Mansfield, Texas 76063
682-320-9400
Opened in 2021, Brenda Norwood Elementary School incorporates a STEM and Fine Arts Academy within the traditional neighborhood school setting to give students greater choices with their educational opportunities. The state-of-the-art facility is the first unique elementary design in Mansfield ISD in nearly a decade, featuring open collaboration learning areas, an open media center and "learning stairwell" for students to gather and work together, nontraditional seating, visual transparency and flexible learning environments. The traditional neighborhood school will house up to 700 students while the STEM Academy and Fine Arts Academy will house 100 students each.

Alma Martinez Intermediate Fine Arts And Stem Academy (5th – 6th)
2001 Julian Feild Street
Mansfield, TX 76063
682-320-9250
Opened in 2021, Alma Martinez Intermediate School is a unique intermediate school design for Mansfield ISD. The design incorporates STEM spaces and a Fine Arts Academy within the traditional neighborhood school setting. The school's two-story design and floorplan provides more open learning, and large window walls to flood the school with natural daylight. Alma Martinez intermediate utilizes a "AMIS Houses" program that focuses on building strong character in every student. The facility will accommodate up to 1,200 students.

Charlene Mckinzey Middle School – Stem Academy (7th – 8th)
700 S. Matlock Road
Mansfield, TX 76063
682-320-9000
Another new Mansfield ISD school opened in 2021, Charlene McKinzey Middle School expands the district's commitment to creating new educational opportunities for students at every grade level. The STEM Academy is set within the traditional neighborhood school setting. In STEM lessons, students are engaged in problem solving-using the Engineering Design Process. The Academy will ultimately prepare learners to pursue STEM interests in high school and post-secondary education.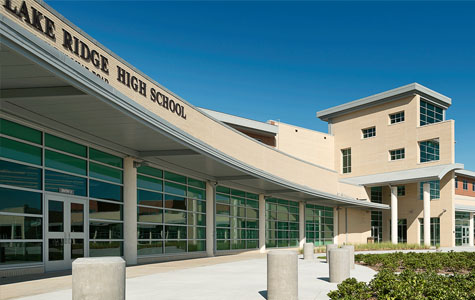 Lake Ridge High School (9th – 12th)
101 N. Day Miar Road
Mansfield, TX 76063
682-314-0400
Lake Ridge High School fosters a united educational environment that embraces and encourages individual differences and learning styles, preparing students for a life of progressive integrity. From football to choir to theatre and JROTC, students have a variety of extracurricular opportunities, and 60 percent of students participate in Advanced Placement courses. Just over 2,622 students attend Lake Ridge High and there are 18.1 students per teacher.